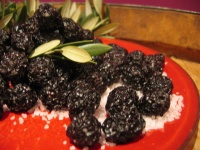 Gourmet Salt Cured Olives
Salt Cured Table Olives
Our salt cured olives are a delicacy. Hand picked California Queen Olives (a large olive developed from an Egyptian variety in California) are placed between layers of sea salt to cure over several months, the result is a taste sensation.
A delicate sweetness is produced and flavour is intensified in the salting process. Moorish on their own or a wonderful highlight to pasta sauces and casseroles as the olive soaks up the flavour of the sauce.
Certified Organic, grown and made on the property.
Packed in 350g net glass jars, between layers of rock salt they make an interesting addition to your pantry.
Enjoy by rinsing the salt off the olives before using or eat straight out of the jar, it's up to you!